The variety of activities on offer allows students to challenge and develop existing talents and offers the opportunity to discover new ones. The Earth and Planetary club is a superb example of how the programme supports and challenges students' thinking through topical discussion and raising awareness of global issues.
We understand that all our students deserve a broad and enriching school experience, whilst making the most of our central London location. For those with a passion for sports, drama and music we offer an inclusive range of activities. Whether your child wants to progress through the grades in piano, take on a new challenge and learn to indoor climb or play a role in the school production, our programme supports students to develop transferable skills that will support them beyond their time at More House.
Above all our Co-curricular Programme offers a balance. The activities are underpinned by the Catholic values and offer students an opportunity to engage in the wider school life and develop a sense of belonging to the school community.
Giving Students an Opportunity
In Key Stage 3, clubs such as Book club and Mandala, Art and Textiles club immerse our students in opportunity, allowing them to be creative whilst Fencing, Dance and Netball clubs will keep the girls active throughout the week. The Co-curricular Programme supports an extensive array of music clubs offering every student in Year 7 to learn an instrument.
Year 10 and 11 have a first-class balance of academic, cultural and sports co-curricular activities. Our students take pleasure in learning new skills such as calligraphy at Handwriting club or Origami at Japanese culture and language club. In addition many of our girls maintain their fitness and nourish their well-being whilst taking in the beautiful views at our rowing club based at Fulham Reach.
Our Sixth Form programme supports the students' preparation for life after More House with clubs focused on building independence. Clubs like driving test theory and preparation for University encourages our students to prepare themselves in taking the next step.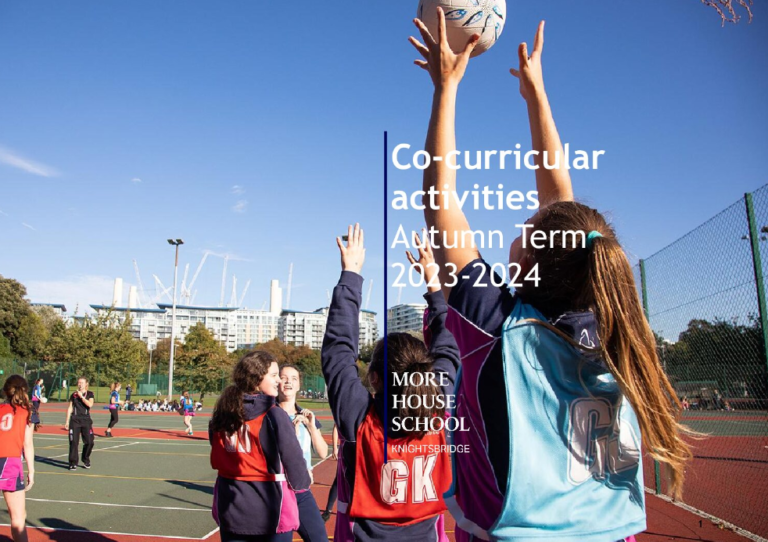 For further information click here.